"This is our only broodmare at this time which we are very proud of ~ We are focusing on showing once again and have sold all brood mares except Almost A Mister - one of the top AQHA pt earning mares. We only breed the best mares with excellent bloodlines, conformation and records ~ this provides us with the best possible foal ~ remember the broodmare is 80% of the foal ~ so if you want quality foals you need good mares!"


ALMOST A MISTER IS NOW A POINT EARNING & GRAND CHAMPION PRODUCER!
FIRST FOAL -WORLD QUALIFIED IN 4 SHOWS! ROM IN 6 OUTS!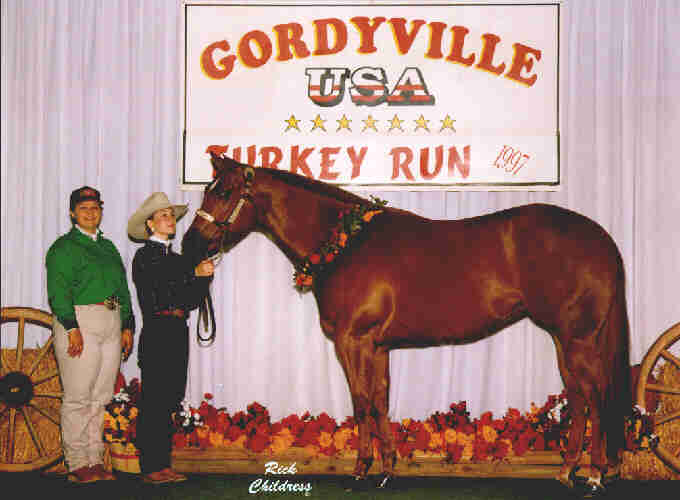 Above photo at 2 years old
1995 AQHA Mare ~N/H~306.5 Pts
Obvious Conclusion
AQHA Two Time World Champion
x
Triple Bar None
AQHA Pt Earner Halter & Performance
Almost A Mister foaled a fancy sorrel filly by Noble Tradition 4 Time AQHA World Champion Halter Horse on March 15, 2003.
3/16/03 - 1 day after foaling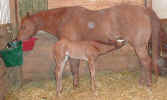 3/20/03 - 5 days after foaling
This mares awesome show record was earned in under 2 1/2 years while under our ownership ~ retired to broodmare status 100% sound!
*FLASH* Now an AQHA Pt Earning and Grand Champion Producer first foal!

AQHA Honor Roll Mare 1998

AQHA Reserve Honor Roll Amateur Mare 1998

Over 300 AQHA halter points

Over 175 Grands & Reserves

Over 65 Circuit Titles

Triple Superior AQHA

Quarterama Champion 1997 & 1998

Congress Top 5 1997 & 1998

Gold Coast Grand Champion Mare

Dixie Circuit Champion Mare

Kentucky Futurity Circuit Champion Mare

Florida Amateur Circuit Champion

Michigan High Point Jr Amateur Mare

Turkey Circuit Champion Mare

Too many more to list......
"When you aim for perfection, you discover it is a moving target!"
[ Home ] [ About Us ] [ Our Toys ] [ Reference Sires ] [ Broodmares ] [ Show Horses ] [ Foals ] [ Recent Sales ] [ For Sale ] [ Links ] [ Photo Gallery ] [ Reference Horses ]