We would like to Congratulate Erin Gray of Wisconsin on her purchase of Faith. Faith will be bred to their stallion Hesa Lil Cool for another wonderful foal. We are sure this cross will help them make their mark as they venture into showing AQHA Halter horses.

1983 AQHA Mare~N/N
Quincy Feature X Miss Sweet Step
Faithfully Quincy's Produce Record:
AQHA Multiple Grand Champion Producer

AQHA Point Earning Producer

AQHA Congress Top Ten Producer

Produced Futurity Winners earning over $20,000

Multiple Futurity Champions Producer ~ Including:
The Masters

Michigan Quarter Horse

Michigan Palomino Breeders

Ohio Quarter Horse Association

Northern Ohio Quarter Horse Association

Michigan Paint Horse

Indiana Quarter Horse

Hoosier Palomino Futurity
PHBA Point Earning Producer

PHBA Multiple Grand Champion Producer

PHBA World Show Top Ten Producer

AT LONG LAST KITTY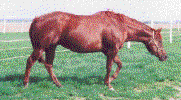 At Long Last
X
Kitty Go Te
In foal to:
PAGE N CHICLES
AQHA ROM Halter
N/N 15.3H
Page Impressive
X
Chicles Angel
Congratulation Mamie on your purchase of Kitty! You have a fabulous mare in foal to an exciting new stallion. Good luck with them in the future!



1/7/01 AQHA IF N/N Colt
Chocolate Diversion
(AQHA Superior Halter Horse)
X
Faithfully Quincy
(AQHA & PHBA Pt earning, Grand Champion & Futurity Champion Producer)
Sire Chocolate Diversion - Congress Res Champ - World Show Top 5 - Superior Hltr Horse

Dam: Faithfully Quincy - Multiple Pt Earning, Futurity Winner, Congress Top Ten, Grand Champion Producer

Multiple Class Winner

Never placing below 3rd
Congratulations Debbie Anderson of Minnesota - good luck with Popeye!


Congratulations to Kim & Jerry Collier of Oklahoma
Squirt will be bred to their stallion Sun Days Tradition
1996 AQHA/PHBA Mare~N/N~Futurity Champion
Night Maneuvers
(AQHA Pt Earner-ROM) by Tardee Impressive
x
Miss Nanza Calibar
(Pt Earner, Halter, HUS, WP, etc.) by Top Calibar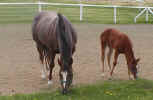 Congratulations Circle 12 Ranch~Terry Bradshaw on the purchase of this fine mare
1996 AQHA Mare~N/H
Concention (AQHA World Champion)
X
Ms Windy Jack (Windchester Daughter)
Proven Producer
Own Daughter of AQHA World Champion
Out of own daughter of Windchester
Sister to Multiple AQHA World & Reserve World Champions
Sister to Multiple Superior Halters
Sister to AQHA Honor Roll Top 5


Congratulations to Joanne Petteplace of California on her purchase of Molly a futurity money earner!

Expensive Addition
X
Consensuous
(above)



1999 Chestnut Filly - 8 AQHA Pts. Winner of:
Northern Ohio Futurity Champion 1999

Northern Ohio Futurity Champion 2000

Michigan Quarter Horse Futurity Reserve Champion Amateur Weanling Filly

Michigan Quarter Horse Futurity Reserve Champion Open Weanling Filly

Michigan Quarter Horse Futurity 3rd Stallion Service Sale Stallion Owners

With limited showing this filly has earned 8 AQHA pts

Has Stood Reserve Champion Mare Amateur & Open

Michigan Quarter Horse Ass'n 4th 1999 Mares with limited showing




1998 Sorrel Colt - N/N - AQHA ROM- Winner of:
The Masters Grand Champion Stallion under all 3 judges

The Masters Futurity Champion under both judges

Ohio Quarter Horse Futurity - Champion under all 3 judges

Northern Ohio Quarter Horse Futurity Champion

Michigan High Point Amateur Stallion All Ages 1998

Michigan High Point Yearling Stallion & Jr Amateur Stallion 1998

Congress Top 10 Yearling Stallions

Over 25 Grands & Reserves

Multiple Circuit Titles
This colt is by Expensive Addition (Impressive DandyxDancers Addition) and out of Faithfully Quincy (Quincy FeaturexMiss Sweet Step).
This exceptional stallion is standing at McKenzie Meadows





This colt was sold to Susan Prouty of California good luck with Wiz!
2000 IF Colt
Sire: A Tuff Concluder - 16.3H Pt Earning son of Mr Conclusion

Dam: Sheza Golden Tardee - 16H Multiple Futurity Champion


[ Home ] [ About Us ] [ Our Toys ] [ Reference Sires ] [ Broodmares ] [ Show Horses ] [ Foals ] [ Recent Sales ] [ For Sale ] [ Links ] [ Photo Gallery ] [ Reference Horses ]