We are currently awaiting our only 2003 foal out of ALMOST A MISTER and by NOBLE TRADITION. This foal is due 3/17/03. Below are our 2002 foals to see more photos of them click on the current photos button.


NOBLE TRADITION
4X AQHA World Champion
AQHA Congress Champion
AQHA World Champion Producer
AQHA Congress Champion Producer
X
ALMOST A MISTER
306.5 AQHA Pts
AQHA Honor Roll Mare
Triple Superior
Futurity Champion Producer


Born 3/15/03 at 10:30am! A fancy sorrel filly with a blaze!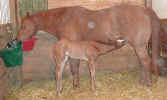 3/20/03 - 5 days

2002 AQHA IF N/N FILLY
PLAYGIRLS REFLECTION
AQHA World & Congress Champion
X
FAITHFULLY QUINCY
Multiple Pt Earner, ROM, futurity winner, and Congress top ten producer



The above photo was taken 1/23/03

This filly is FOR SALE! She is sure to be a successful show horse like her brothers and sisters then a tremendous broodmare!


2002 AQHA N/N IF Filly
47.5 AQHA POINTS
*FUTURITY WINNER OPEN & AMATEUR*
AQHA ROM EARNER IN 6 OUTS
MULTIPLE AQHA GRAND CHAMPION MARE OPEN & AMATEUR
MULTIPLE CIRCUIT CHAMPIONSHIPS

THE TWO TIMING KID
AQHA Superior Halter at 2yo
X
ALMOST A MISTER
AQHA Honor Roll Mare - 306.5 AQHA Pts


Photo taken 1/18/03

This filly is FOR SALE ~ You wont find a filly with parents like this every day ~ She is proving herself to be a top show mare like her sire and dam. A futurity winner who is making her mark already! Diva is 2.5 pts away from earning her first half of her superior as a yearling in both Open & Amateur! Not many yearlings achieve this honor!



"Vision is not seeing things as they are, but as they will be."
[ Home ] [ About Us ] [ Our Toys ] [ Reference Sires ] [ Broodmares ] [ Show Horses ] [ Foals ] [ Recent Sales ] [ For Sale ] [ Links ] [ Photo Gallery ] [ Reference Horses ]