JUST CLICK ON THE LOGO TO BE REDIRECTED
If you want your web site listed here just email me with the address!

---

Crescendo Paints and Quarter Horses - Home of Hesa Lil Cool
Premier Quarter Horses - Quality AQHA Halter Horses

Home of Page N Chicles - AQHA ROM Stallion

American Quarter Horse Association

We are very proud to use this fencing - very safe, attractive and very durable!



AQHA Quarter Horses & Welsh Corgis

Stallions, Futurity info, Shows, Horses for Sale Etc...

AQHA Halter & Pleasure Stallions at Stud - Training

AQHA Stallions, Horses for sale, foal photos, etc...
Home of Hesa Lil Cool - AQHA Stallion

Legend Valley Acres Home of Sun Days Tradition - Reserve World Champion & World Champion Sire

AL Quarterhorses - Home of Zip Debonair AQHA Pt Earner

The only kind of truck to own!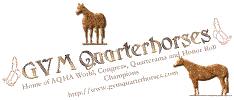 "In the cookie of life, friends are the chocolate chips!"
[ Home ] [ About Us ] [ Our Toys ] [ Reference Sires ] [ Broodmares ] [ Show Horses ] [ Foals ] [ Recent Sales ] [ For Sale ] [ Links ] [ Photo Gallery ] [ Reference Horses ]