This page has a lot of photos please be patient as it loads

2001 AQHA N/N Sorrel Filly
Multiple AQHA Point Earner & Grand Champion Mare
14.5 AQHA Points
*NEWS*
MAID A TOUCHDOWN WAS GRAND CHAMPION YOUTH MARE UNDER BOTH JUDGES AND CLASS WINNER IN OPEN 2YO MARES WITH 9 YEAR OLD KATE JOHNSON AT THE LEAD! CONGRATS KATE AND GOOD LUCK THE REST OF THE SUMMER!
OQHYA Circuit Champion AGAIN!
Class Winner under both judges Open 2yo Mares & Youth Mares



TOUCHDOWN KID
AQHA World Champion Producer
AQHA Leading Sires List
X
HINT OF PERFECTION
AQHA point earning producer
AQHA Grand Champion Producer
Daughter of AQHA World Champion Hint Of Conclusive




These photos were taken 2/2/03 as an early 2 year old. She is being worked daily and we are putting weight on her for the show pen.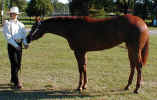 8/2002 These are yearling photos with our niece Katey who has never shown before!
7/2002 as a yearling - these photos I snapped during a bath.
This filly is bred as good as they get and has an awesome temperament. She will be competitive enough for Open & Amateur when she is fit but quiet enough for any youth to show. She has 5 Open & 2 Amateur & 7.5 Youth points and Multiple Grands with very limited showing.

[ Home ] [ About Us ] [ Our Toys ] [ Reference Sires ] [ Broodmares ] [ Show Horses ] [ Foals ] [ Recent Sales ] [ For Sale ] [ Links ] [ Photo Gallery ] [ Reference Horses ]